Features & Applications:
ECDL vertical stainless steel multistage centrifugal pumps applied high quality stainless steel material, and the mechanical seal is made of hard alloy. Long service life, light-corrosion resistance and high efficiency. Therefore, it is suitable for various industries. Lesser

space requirement, space-saver. It can also be equipped with related protectors to effectively prevent from dry-running, overheat, out-of-phase and overload circumstances.

Water supply: Host water supply pipe and booster of multi-storey building.

Industrial pressure boosting: Air conditioning and cooling systems.Boiler feed and condensation systems. High pressure rinsing systems.

Water treatment: Filters and reverse osmosis systems, distillation systems, separators.

Agriculture irrigation: Large area irrigation, spray irrigation.
(Remarks: The main difference between ECDL and ECDLT is the material of inlet&outlet seat. The standard inlet and outlet seat of ECDL is stainless steel 304, and the inlet and outlet seat of ECDLT is ductile iron, which has high strength and wear resistance)
---
Main Applications:
A.Install the ECDL pump in the basement, connect the water pipe to the underground reservoir(water source), and then deliver the water to the top water storage tank (tower) of the building.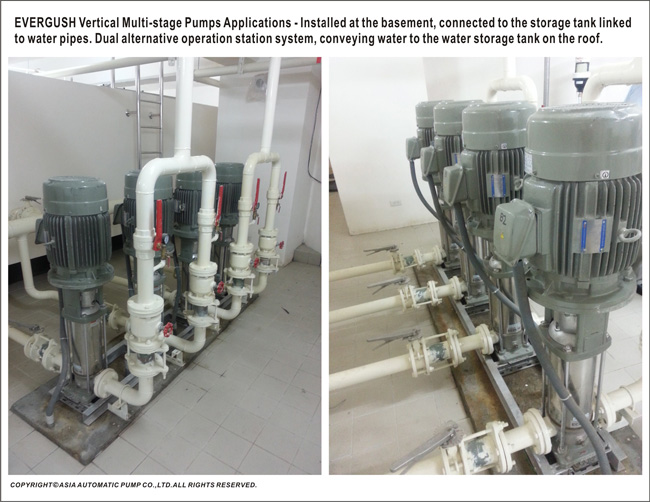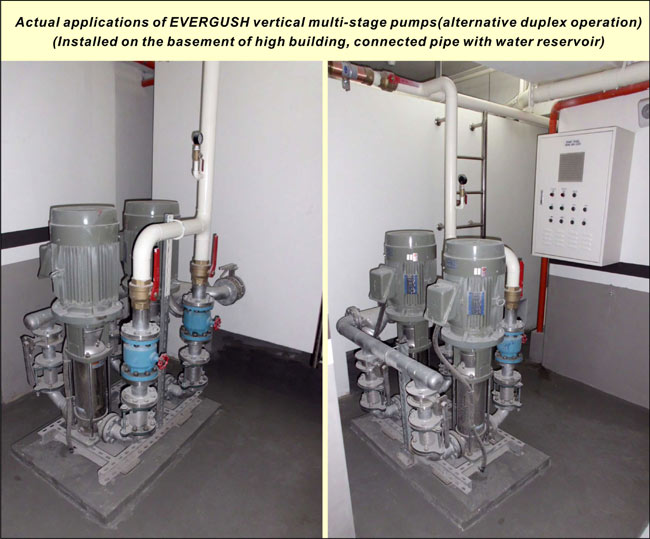 ---
B.Inverter(VFD) constant pressure booster pump system. Combined with EVERGUSH ECDL pump, VFD control panel, diaphragm pressure tank, pipes and valves. All of these are integrated into a packaged booster pump system.It's commonly used in hotels, shopping malls,stadiums, restaurants, military camps,parks,etc.

---
C. With EVERGUSH customized control panel and rain cover(if it's installed outdoors). To transfer water to the manufacturing machines or water storage tank in the factory. 
---
D. Water transfer and circulation for Reverse Osmosis(RO) clean water equipment
---
Specification:
Power: 1HP~150HP (0.75KW~110KW)

Motor: IP55 / Insulation F

Totally enclosed fan cooled 2 pole IEC Induction motor-IE2(Standard Efficiency); IE3(Optional/High Efficiency). 

Motor range: 2P;50Hz or 60Hz.

Three phase 220~660V(For all models)

Single phase 220~240V(1~3HP only)

Max.Head: 270M

Rated Capacity range: 2~200M³/Hr
---
Operating Conditions:
For clean non-flammable and non-explosive liquid, without solid, flammable and abrasive matter.

Ambient temperature: +40℃.

Liquid temperature: Temperature range: -15℃~+70℃.

Hot water range: +70℃~+105℃.

Max. Working pressure: 25 kg/cm².
Remarks: If it is used for brewery, we suggest replacing standard motor to explosion proof motor.