Features:
Adopts Non-clog Vortex impeller equipped with powerful SUS316 agitator.It can minimize abrasive wear,allows large impeller clearance, and it's suitable for animal farms.

Pump is equipped with motor overload protector.The motor will shut off automatically to prevent motor from burnout easily whenever voltage drop occurs, impeller plugged, and other unusual conditions.

EFD adopts SIC dual Mechanical seal as standard, in order to overcome abrasives or slurry wear.

It's available to equip with auto float switch on submersible pump.

Guide Rail device is available upon request. It's for safety purpose and easy dismantle.
---
How to use float switch to control dual-pumps, to do alternative & parallel operation.
---
Operation Diagram of Submersible Cutter Pump with TOS Guide Rail Device:
Through simple and convenient installation, we can connect the pump onto guide rail device. Whenever the pump needs maintenance, it can be easily pulled out through guide bar to dismantle, repair or examine the pump. For Life safety purpose, The workers no longer take big risks to go down the septic tank to do maintenance or replacement. It's safer and more convenient to do maintenance for the pump.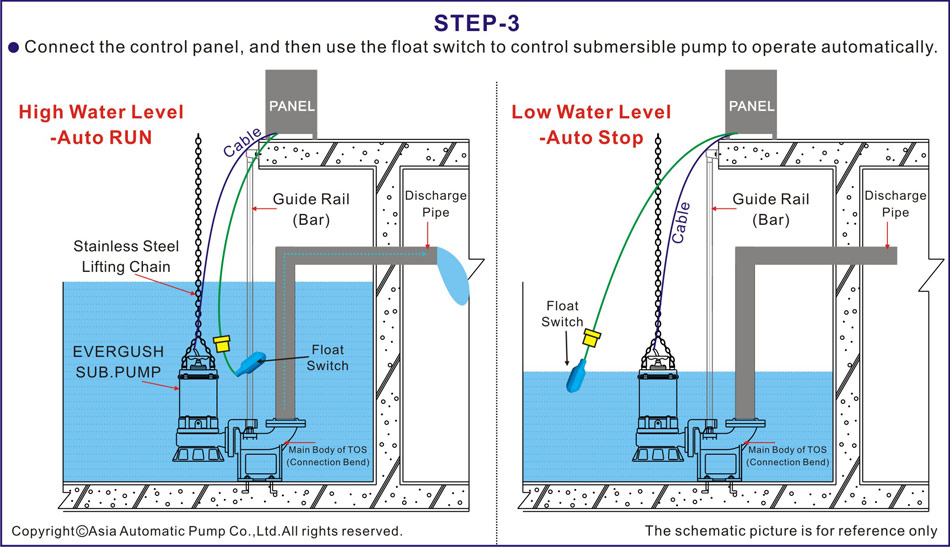 ---
Applications:
Animal farms

, Fishery, animal husbandry, dairy farm, piggery,fecal sewage tank.

Dredging low concentration slurry water.

Building waste water treatment system, sewage treatment plant, community market.

Drainage waste water from industry and factory.

Other sewage or sump treatment system.
---
Operating Conditions:
Ambient Temperature: Max.+40℃

Liquid Temperature: 0~40℃

Max. Depth: 10M

Forbid 24 hours continuously running or running pumps under the lowest running water level.

Solid Passage: 35~50MM
---
Specifications:
Output: 1/2HP~7.5HP

Motor Protection: IP68

Insulation: F

Pole: 2P

Voltage:




1phase 110 or 220V*60HZ(1/2HP~2HP)




3phase 220~380V*60HZ




1phase 220~240V*50HZ(1/2HP~2hp) 3phase380~415V*50HZ

Discharge: 2" ~ 4"

Max.Head: 25.5M

Max. Capacity: 1300 LPM