Features:
Impeller is tipped with tungsten cutter to cut off hard objects and prevents impeller from being damaged by hard articles.
Epoxy resin cable base, 2p dry motor, C3 deep grove bearing, dual mechanical seals, auto-cut protector to prevent from motor burnout easily due to abnormal conditions.
The effects of Evergush EFK Submersible Cutter Pumps:
---
How to use float switch to control dual-pumps, to do alternative & parallel operation.
---
Operation Diagram of Submersible Cutter Pump with TOS Guide Rail Device:
Through simple and convenient installation, we can connect the pump onto guide rail device. Whenever the pump needs maintenance, it can be easily pulled out through guide bar to dismantle, repair or examine the pump. For Life safety purpose, The workers no longer take big risks to go down the septic tank to do maintenance or replacement. It's safer and more convenient to do maintenance for the pump.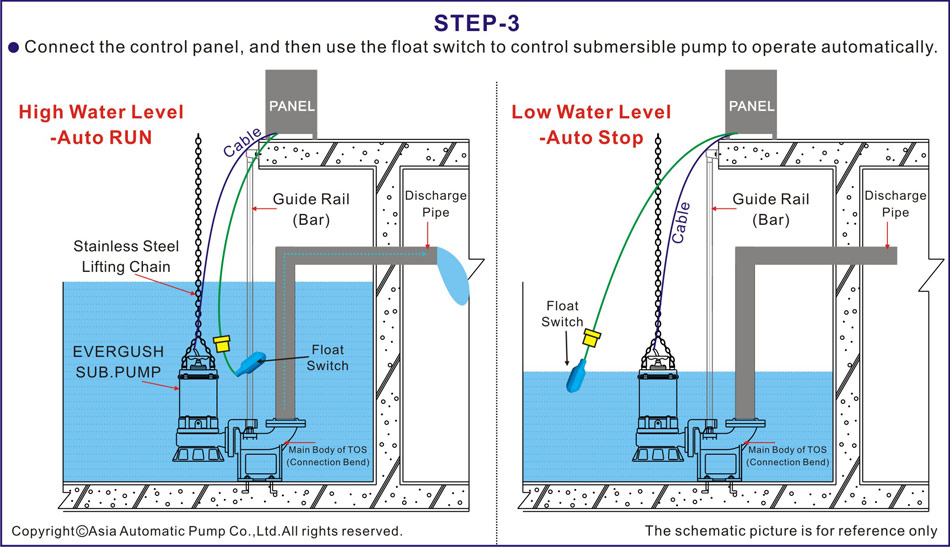 ---
Applications:
Sewage drainage from hospitals, schools, husbandry,buildings, stock farm, plants, subway tunnel...etc.
Dewatering waste water containing obstacles, such as leaves & branches,working gloves, tampons,food,animal manure...etc.In order to avoid pump impeller stuck.
---
Operating Conditions:
Ambient Temperature: Max.40℃
Liquid Temperature: 0~40℃
Max. Surgence: Max.10M
Forbid 24 hours continuously running or running pumps under lowest running water level.
Solid Passage: 22~28MM
---
Specifications:
Output: 1/2HP~7.5HP
Motor Protection: IP68
Insulation: F
Pole: 2P
Voltage: 1phase 110 or 220V*60HZ(1/2HP~2HP) 3phase 220 or 380V*60HZ
1phase 220~240V*50HZ(1/2hp~2hp) 3phase 380~415V*50HZ
Discharge: 2" ~ 4"
Max. Head: 35M
Max. Capacity: 1200 LPM