Features:
Non-clogging SUS316 impeller, minimized abrasive wear,large impeller clearance, and maintenance free.

Pump is equipped with motor overload protector,it will shut off automatically to prevent motor from burnout whenever its voltage drop,impeller plugged, and other unusual conditions.

The mechanical seal part combines with superb double set mechanical seals, Silicon Carbide(SIC) Material.

Impeller and pump casing is made of stainless steel SUS316 for corrosive waste water/sewage use.
---
Diagram of Submersible Sewage Pump with float switch:
Dry-running or low water level running is forbidden for submersible sewage pump,It could cause damage on mechanical seal and motor coils. To avoid this situation, installer can connect float switch on control panel, to make sub.pump on & off automatically.Single phase sub. pump can be equipped with float switch directly upon request.  
A. Single Phase Submersible Pump(0.5~2HP)can be equipped with float switch on pump.
B. Connect Float switch on control panel, to run the pump automatically(For both 1 phase and 3 phase models). 
---
Operation Diagram of Submersible Sewage Pump with TOS Guide Rail Device:
Through simple and convenient installation, we can connect the pump onto guide rail device. Whenever the pump needs maintenance, it can be easily pulled out through guide bar to dismantle, repair or examine the pump. For Life safety purpose, The workers no longer take big risks to go down the septic tank to do maintenance or replacement. It's safer and more convenient to do maintenance for the pump.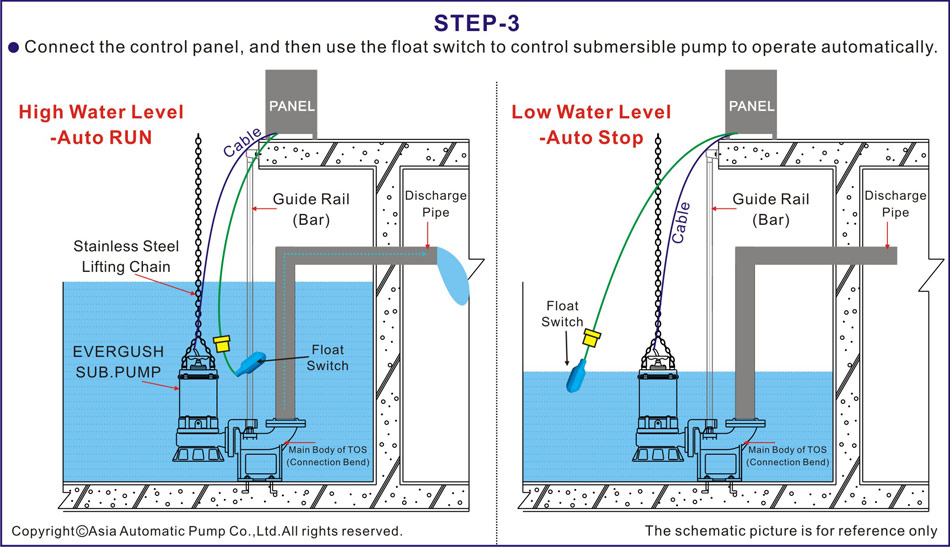 ---
Applications:
Building waste water treatment system, sewage treatment plant, community market.

Drainage waste water from chemical plant,dyeing,textile factory,.etc.

Fishery, animal husbandry, dairy farm,livestock farm,piggery and fecal sewage tank.

PH Value 3~11 industrial waste water system.
---
Operating Conditions:
Ambient Temperature: Max.+40℃.

Liquid Temperature: 0~40℃.

Max. Submergence: 10M.

Forbid 24 hours continuously running or running pumps under lowest running water level.

Solid Passage: 35~50MM.

No use in 100% pure sea water.
---
Specifications:
Output: 1/2HP~15HP(0.37KW~11KW)

Protection: IP68

Insulation: F

Pole: 2P

Voltage:




1phase 110 or 220V*60HZ(1/2hp~2hp) 3phase 220 or 380V*60HZ




1phase 220~240V*50HZ(1/2hp~2hp) 3phase 380~415V*50HZ

Discharge: 2" ~ 4"

Max. Head: 34M

Max. Capacity: 2500 LPM (150M³/Hr)