FEATURES:
---
STRUCTURE OF FIRE-FIGHTING PUMP SET:
A.STRUCTURE OF  FIRE PUMP WITH JOCKET PUMP SET: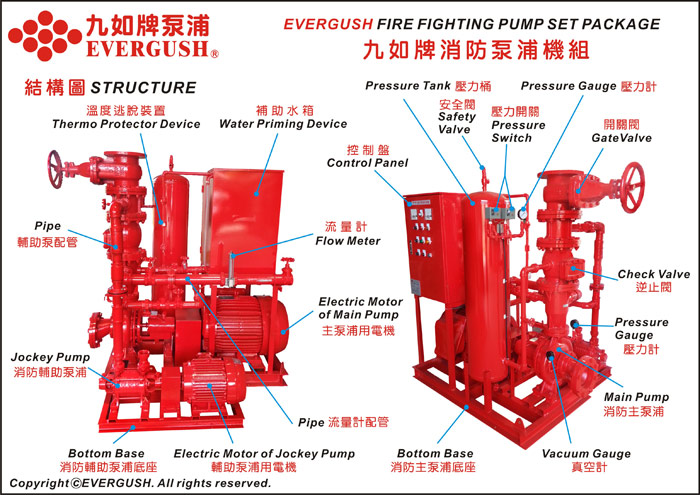 B.STANDARD STRUCTURE OF  FIRE-FIGHTING PUMP SET:
---
INSTALLATION:
 Option 1: Negative Pressure- Water source is underneath the FF-XA Fire pump.
Option 2: Positive Pressure- Water source is higher than FF-XA Fire pump.
---
APPLICATIONS:

---
ON-SITE INSTALLATION:
A.Installed in the basement machine room of the building or the machine room in the factory
B.Dedicated to super high-rise buildings, installed in the machine room in the middle section of the high-rise building
Notes: The pictures are for reference only. The quantity, purpose and specifications of fire pumps are configured according to actual site conditions
---
Electric Fire pump with Diesel engine Gen-set: 
---
Working Conditions:
Ambient temperature: Max.40℃

Liquid temperature: 0~60℃

It is suitable for clean water or non chemical property liquid. It should not contain solid particles in the liquid.

Working pressure: 10~20 Bar (Different water pumps withstand different pressure resistance.)
---
Specification:
Horsepower: 7.5HP~300HP

Protection: IP54~55

Insulation: B,F

R.P.M: 2P,4P

Voltage: 3 phase 220/380/440/660*60Hz




3 phase 380~415V*50Hz

Discharge/suction diameter: 21/2" ~10"

Head: Max. 230 M

Capacity: 18~830M³/hr.