FEATURES:
Must Install ETF pump

below the water tower

, to boost water pressure downward. When using water,the pump will run automatically to increase water pressure and supply. When no using water, the pump will auto stop running.

Built-in microchip control. Automatic power off when no water is detected within 60 seconds, to avoid the motor being burn up.

Dual-voltage 110 / 220V design for 60Hz models, you can adjust the required voltage.

Low operation noise. The supply of water pressure is stable, and the water pressure will not change suddenly when taking a hot bath. The water temperature will not suddenly become cold or hot.

All-in-one design, compact size saves installation space.

The pump casing structure is made of reinforced plastic steel, and the wetted parts are not rust or create rust water. The motor shaft also will not get stuck easily due to leave unused for a long time.

Built-in thermal switch, mainly to avoid frequent ON/OFF or nonstop running which lead to outlet pipeline to burst out by water overheating.

If the pump is installed outdoors, it is recommended to install a cover for protection. It can protect electronic parts in the ETF series being damaged by heavy rain or direct sunlight which can extend the product life span.
---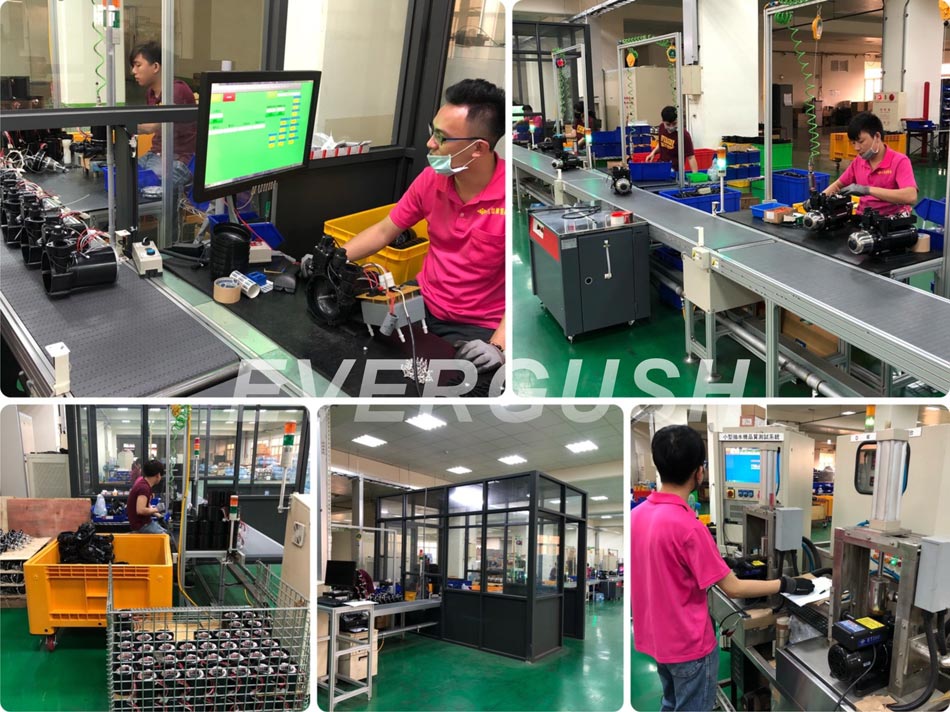 Production & Assembly Line of ET and ETF pump in EVERGUSH Headquarters,Kaohsiung Taiwan.  All ET/ETF pumps are 100% strictly inspected and tested.
---
INSTALLATION WAY:
---
APPLICATIONS:
Auto boost water pressure to the house, apartment, villa,

school, restaurant, school, beauty shop,...etc.

Auto boost water pressure to garden sprinkler, heater,

toilet, washing machine, sanitary equipment,...etc.
---
WORKING CONDITIONS:
Ambient Temp.: Max.40℃


Liquid Temp.: 0~40℃.

Relative humidity: Max.85%(RH).

Working pressure: Max. 5 bar.

Before starting the pump, make sure that the inlet water pressure

cannot be greater than pre-set activation pressure from the factory.

Applicable liquids: drinking water or other liquids that are

not corrosive and have characteristics close to clean water.

Not suitable for pumping groundwater or hot water which is over 40℃.
---
SPECIFICATION:
Output: 1/4HP(180W);1/2HP(380W) 

Motor Protection: IP54

Motor Insulation: E class.

Enclosed Fan-cooled 2P Induction Motor.Built-in Motor Overload Protector.

Voltage: Single phase110/220V(Dual-voltage)*60Hz ; 220~240V*50Hz

Inlet/Outlet: 3/4" or 1"

Inlet Pressure to start the pump: Mini. 0.1 bar.  

Standard Performance for 60Hz Model: ET200:15M*30LPM ; ET400: 20M*30LPM 
Standard Performance for 50Hz Model: ET200:15M*36LPM ; ET400: 20M*40LPM